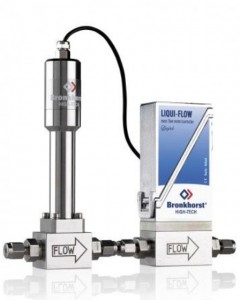 Precise mass flow liquid dosing systems
The LIQUI-FLOW Pump Controller provides in one simple combination a close coupled Liquid Mass Flow Meter (series L10/L20) and a pump, which accepts analog or digital signals defining the required mass flow rate. Using a pulsation free rotary positive displacement pump, the unit avoids the normal problem of pulsating flow patterns produced by most low-flow pumps and eliminates the need to use tanks pressurized with inert gas or similar techniques.
The combination offers a precise mass flow liquid dosing system with applications in biotechnology, medical device manufacturing, and pharmaceutical synthesis.
Suitable for all low viscosity fluids, the LIQUI-FLOW provides the necessary control function, using the standard control logic of Bronkhorst Liquid Mass Flow Controllers.
Standard LIQUI-FLOW pumps can be offered in ranges of 50…500 g/h, 100…1000 g/h and 400…4000 g/h; other ranges are available on request.