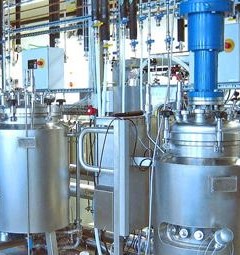 Pilot Chemical Plant – Transfer operations
A pilot plant is a small chemical processing system which is operated to generate information used in the design of larger facilities.
In Batch processes the transfer of fluids from one vessel to another needs to accurately monitored and controlled.
Flow rates and liquids being transferred will change from process to process.
This offers a considerable technical challenge to pilot plant designers
Flowcon has extensive project experience in Pilot plant transfer systems, we bring together the the technical excellence of our international partners to offer a bespoke solution to fluid flow control requirements
The Bronkhorst pumped transfer system couples a Coriolis Mass flow controller with a pump and offers a flexible solution to varying transfer requirements.
Liquid transfers from less than 1 g/hr up to 600 kg/hr can be controlled and monitored to an accuracy of 0.2%
The Coriolis system offers an accurate mass transfer from vessel to vessel regardless of the changing physical characteristics of fluid being transferred.
The integral PID controller of the Cori flow removes the need to write costly bespoke automation software.
Density and temperature readings are available as additional signals
Please contact us for further information