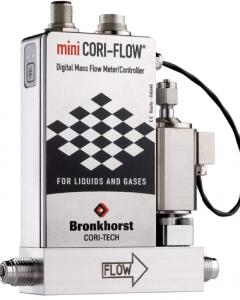 Bronkhorst Mini Cori-Flow ,
Compact Coriolis Mass flow meters and Coriolis Mass flow controllers for Liquid and gas applications.
The Mini Cori Flow series offer unrivaled accuracy and come with an integral PID controller as standard.
The instruments offer digital or analog output of Mass Flow rate, Temperature and Density.
Three instrument sizes cover flow ranges from 0…2o g/hr up to 0.3….30Kg/hr
The fully featured PID control firmware which allows a variety of automatic flow control options such as batch filling, Master-slave fluid mixing,
Features include
Accuracy of up to 0.1%
Stainless steel or Hastelloy options
High pressure rating -200Bar
Compact design
Variety of Control and signalling options
Variety of mechanical connection options
True mass flow measurement regardless of fluid or gas properties
Ideal for measuring gas or mixtures of varying consistencies
Pleaseview the following YouTube presentation, Download the brochure or contact us for further information