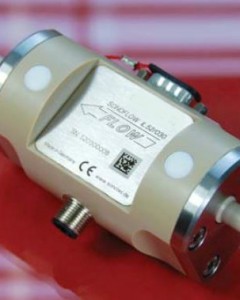 Inline ultrasonic Low flow sensor
This ultrasonic flow sensor detects small flows of liquids using bidirectional ultrasound measurement.
Due to its PEEK construction and its resistance to temperature the sensor is particularly suitable for applications where strict hygiene is required.
The sensor can accommodate Media temperatures up to 140 C and can thus be easily steam sterilized.
It is designed to built into production machines and is configurable for current or pulse outputs
Advantages include :
Quick measurement without any time lag
Measurement of intermittent flow
Low pressure drop
Chemically resistant construction
No moving parts-no wear and tear
Sterilisable