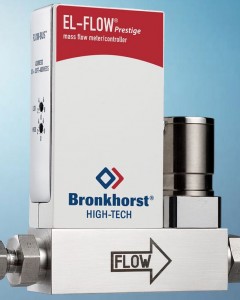 El Flow Prestige
El Flow Prestige is the next generation of Bronkhorst Mass Flow meters & Controllers for Gases.
Core components have been redesigned and innovations such as 'Differential temperature Balancing' introduced to ensure superb sensor sensitivity.
New power efficient microprocessors with innovative multistage control loops are applied to achieve enhanced dynamic behavior.
The Control valve has been redesigned to offer a faster response time and less overshoot
A new metal housing offers a robust yet compact design.
Full scale ranges from 0.7mln/min up to 20ln/min Air equivalentat 64 or 100Bar pressure rating