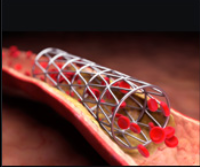 Coronary Stent Coating
The Manufacture of Drug Eluting Coronary stents includes the application of a drug coatings to in a precise and repeatable manner.
The drug is normally sprayed onto the stent using a bespoke automated spraying mechanism, in all these applications the control of flow is vital to the accuracy of the coating applied.
Using traditional techniques Flow-rates can be controlled to 5 -10% of the target rate. This may be acceptable in some applications but where active drug substances are being applied a variation of 10% in drug coating leads to an unacceptable rate of failures & Losses at Quality Control stage.
Responding to the need to improve flow control technology in medical coating applications Flowcon developed a unique Coriolis Mass Flow pumping system that offers enhanced control of the coating process
Flow rates as small as 0.2grams/hour can be controlled to an accuracy of 0.2% of target.
Download our Medical Device Coating application note here