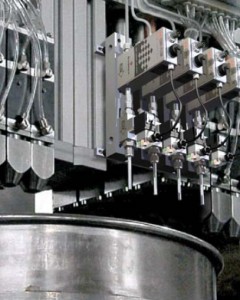 Cori-Fill- Coriolis Controlled Filling System
Bronkhorst CORI-FILL technology combines the integrated batch counter function of the Mini Cori Mass Flow instruments with closely coupled shut-off valves, proportional valves, or pumps.
The system offers a flexable system that can easilly be adapted to changing filling or dosing needs
In contrast to the gravimetric method (weighing scales), multiple fluids can be dosed simultaneously.
The amount to be dosed can be easily preset by programming the batch counter via a fieldbus connection. This batching method is faster and more compact than the gravimetric method, and highly accurate.