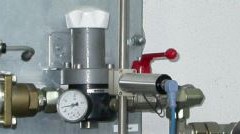 Ultrasonic Level switch
With this ultrasonic level switch it is possible to detect easily and reliably when a pipeline is full or empty.
Designed for small diameter pipes, the sensor is mounted sideways at the pipe. After a teach-in procedure the sensor uses a contactless ultrasound signal to distinguish between liquid and air/gas in the pipe.
Safe to use in areas where strict hygiene is required the ultrasonic level switch offers a contactless reliable to detect full or empty small bore tubes
Versions available for pipes from 10mm OD to 63.4 mm OD
Advantages include :
Easy installation
Retrofit without process interruption
No wear and tear
Quick start up
Ex rated
Safe to use in hazardous areas