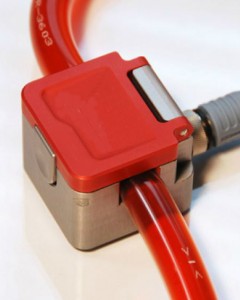 Contactless Ultrasonic Flow Measurement
This compact ultrasonic flow sensor quickly detects the flow of liquids in flexible tubes.
Due to its construction the sensor is particularly suitable for applications in fields where strict hygiene is required.
These include biotechnology, pharmaceutical and food production applications.
The Contactless flow measurement sensors clamp on to existing tubing and measure flow rate using an ultrasound signal, there is no need to compromise the existing liquid flow path and there is no risk of contamination.
In disposable biotech applications the sensors can be attached and removed from the disposable tubing as required.
The sensors are available for a variety of tubing sizes and can monitor flows in tubes from and ID of 3mm